Kirk Teppe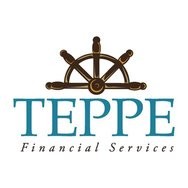 Welcome to our Web site, where you'll find a wealth of information in the form of newsletter articles, calculators, and research reports. Teppe Financial Services has been serving individuals, families, and small businesses in the greater Cincinnati area since 1980.
Teppe Financial Services is a comprehensive financial services firm committed to helping our clients improve their long-term financial success. Our customized programs are designed to help grow, protect, and/or conserve our client's wealth by delivering an unprecedented level or personalized service and expertise. Your peace of mind and financial independence is our ultimate goal.
Our business like most others is built on referrals from satisfied clients. We know we get referrals only by establishing relationships based on trust and mutual respect. But beyond that we are committed to conducting business with high standards of honesty and integrity.
We encourage you to explore our site and learn more about the services we provide. Should you have any questions or would like a complimentary no obligation consultation, please feel free to email us or call us at (513) 874-8381. We look forward to hearing from you.
Click on the following link to: Tell A Friend